Additional notable achievements
---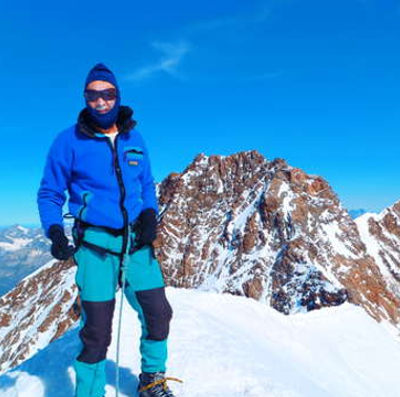 Over the years I've done a great deal of climbing, racing and other adventuring. These are a few of a 'miscellaneous' variety, listed in chronological order:
---
1968
I did a twenty three day Outward Bound course at Anikiwa which is situated in the Marlborough sounds near the northern end of New Zealand's South Island in May 1968. Highlights of the course included three days of white water kayaking, a three day sailing expedition in a three tonne cutter and several multi day bush walking expeditions in very hilly terrain. Other highlights included a confidence course over ropes which were high off the ground and rock climbing and abseiling. I was seventeen years old when I did the course and it gave me a love for outdoor activities and strenuous exercise, and although it would be many years before I began doing outdoor things in a really big way I kept doing them in a minor way before I started doing major climbs and marathons.
March 1979
I completed a forty two kilometere ski marathon, the Holmenkollen ski marathon, a citezens race in Oslo, Norway. Mytime wasfive hoursand fifty two minutes.
In March 1980 I completed the samerace in a time of four hours and eleven minutes.
February 1984
I ran the Auckland marathon in three hours tenminutes and fifty eight seconds.
March 1984
I climbed to the summits of Mount Ruapehu, Ngauruhoe and Tongariro , completing the journey in less than twenty-four hours. These peaks are the highest, third highest and fourth highest in the North Island of New Zealand. The round trip was 74 kilometres long and involved a total ascent distance of 3,500 metre and the same descent distance because the journey started and ended at the same place, Iwakau village at the top of the Bruce. This road is the road To the Whakapapa ski field on Mount Ruapehu.
November 1984
I completed another marathon in South Auckland finishing in three hours eight minutes and eighteen seconds. It was my best marathon time ever.
November 1985
I competed in and completed my only ultra marathon, the 50 mile Tree to sea race. The race started in Putararu and ended in Mount Maunganui and took me eight hours and twenty two minutes to complete.
1987
I sailed as a crew member on the tall ship ANNA KRISTINA from Port Louis in Mauritius to Fremantle in Australia. The vogage lasted from November 5th until December 11th. The leg I sailed was one of the legs of a multi leg vogage that began in England and finished at Botany Bay near sydney , Australia to commemorate the 200th anniversary of the first fleet when ships carried convicts from Britain to Australia where they were sentenced to hard labour. The Anna Kristina was only one of six ships to make the 1987 voyage. I really enjoyed the voyage. It was fun to go aloft and to hoist and unhoist the sails. If I had known how good the trip was going to be before hand I would have spent eight months making the entire trip from england to Botany Bay.
March 1994
I competed in and finished a full length ironman triathlon in Auckland. The race consisted of a 3,800 metre swim, 180 kilometre bicycle ride and a 42 kilometre marathon and it took me twelve hours and forty six minutes to complete.
February 1998
I competed in the New Zealand Masters Games in Dunedin, running in the men's 3,000 metres, 10,000 metres and half marathon. I was unplaced in the latter two races, but I managed to win a silver medal in the 3,000 metres, finishing in a time of eleven minutes and forty one seconds.
October 2002
I competed in the World Master's Games in Melbourne Australia, taking part in the 5,000 metres, 10,000 metres and half marathon in the men's 51 to 55 year old age group. My times for the three races were 20 mimutes and 51 seconds, 43 minutes and 108 minutes respectively.
November and December 2008
I did a six week ski instructors course in Whistler, Canada and qualified as a level one ski instructor. I spent eight days in Jackson Hole Wyoming after the course doing back sountry ski mountaineering.
February 2008
I hiked to the bottom of the Grand Canyon and back to the top via the Bright angel Trail [South Rim).
March 2008
Three days after my Grand Canyon hike, I did a Zero Gravity flight with the ZeroG company. The flight, flight number 172 left from Las Vegasand I experienced fifteen periods of weightlessness, each period lasting twenty five seconds.
May 2009
I did a five day boost course at Outward Bound at Anakiwa. It was the first ever boost course for Outward Bound Old Boys. The course included sailing, a confidence course , rock climbing and white water kayaking. It did not include bush walking. The confidence course had been changed and was different to that in 1968. I was pleased that it included kayaking and sailing. Forty one years after doing the original course I still enjoyed the challenge of kayaking and sailing. I had not done very much of these activities since 1968 , bearing in mind that sailing in a small cutter is totally different to sailing on a tall ship.
October 2009
I competed at the World MastersGames in Sydney, Australia, taking part in the 1,500 metres, 5,000 metres, 10,000 metresand half marathon in the men's 55 to 59 year old age group. To my surprise I qualified for the final in the 1,500 metres. My time in the final of that race was six minutes and one second. My other events took 23 minutesand forty eight seconds, forty eight minutes, and 117 minutes.
January 2010
I competed in the World winter Masters Games in Bled, Slovenia. They were the inaugural World Winter Masters games. I took part in the men's ten kilometre cross country ski event (Classic style) and the thirty kilometre ski marathon, 55 to 59 year old age group. My time for the 10,000 metre race was 53 mimutes and my time for the 30,000 metre race was two hours and fifty four minutes.